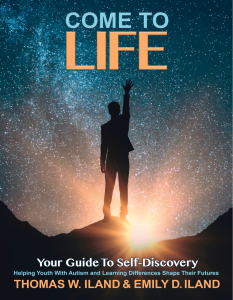 The number of children with youth is growing, and they are growing up. Most families, many educators and others involved in the process often feel unprepared to help youth with the transition to adulthood. We are pleased to announce that our new book, Come to Life! Your Guide to Self-Discovery by Emily Iland and Tom Iland, has been published!
Come to Life! has two voices and two audiences: self-advocates and parents/professionals. Tom guides self-advocates through the process of self-discovery so they can be in the driver's seat to their future. Emily guides the adult allies who are helping a young person with ASD navigate the transition to adult life. Come to Life! is available at ThomasIland.com.
Emily and Tom offer presentations on issues related to transition, including Tom's keynote speech, Come to Life! and a guided tour of the book. Related topics include Evidence-Based Predictors of Success in Transition, Creating High-quality Transition Plans, Writing a Super Summary of Performance, Self-advocacy, Self-disclosure of disability, and Adolescence and Sexuality.