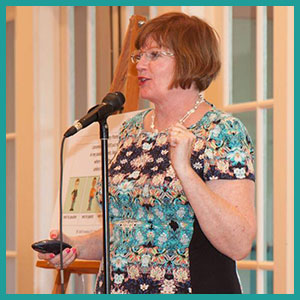 Emily presents a wide range of topics in both English and Spanish. Formats include full day workshops, presentations, webinars and other training events. Training can be customized for your needs and audience. Please review the popular options listed here. Contact Emily for more information including fees, availability and booking!
Click on each bar below to read about different presentation options.
BE SAFE
BE SAFE helps youth and adults with ASD and other disabilities learn to interact safely with police. We offer unique, engaging training and safety events for parents, educators, other professionals, self-advocates, police officers and other first responders.
A BE Safe Certificate Course is a full-day workshop that builds capacity for parents, educators and police to use the BE SAFE materials to teach learners with diverse language and cognitive abilities. All participants leave with the information, tools and resources they need to help diverse individuals learn to interact safely with police. The event is co-facilitated by Emily Iland and Tom Iland.
A BE SAFE Interactive Movie Screening is a 2.5 hour community safety event that brings together local police and the disability community to get to build relationships and skills for interacting with one another. The event is co-facilitated by Emily Iland and Tom Iland.
Experience Autism
Our evidence-based training helps law enforcement officers and other first responders recognize and respond to those with ASD
The Experience Autism®  4-hour training event includes up to six simulations that help officers take the perspective of individuals with autism. This training has been independently validated as effective by an independent researcher, helping officers feel prepared to interact more effectively with those on the spectrum. Experience Autism® can be expanded to include firefighters and medical personnel. The training can also be adapted or customized to create awareness of diverse disabilities for schools, colleges, corporations and other businesses, just ask!
The Experience Autism®  training event is co-facilitated by Emily Iland and Tom Iland.
Reading Comprehension
Emily has done extensive research about hyperlexia and evidence-based practices for improving reading comprehension. Her book Drawing A Blank is considered the go-to resource on the subject! Training for Parents, Educators and other professionals on this topic includes:
A "Guided tour" of Drawing A Blank  In a full-day "Guided Tour" Emily guides participants through each chapter of Drawing A Blank. Participants leave armed with the information and resources they need to address compression issues of their students or children, including the latest information on evidence-based practices.
Other Drawing A Blank presentations are available ranging from a one-hour introduction, to a half-day training, to online webinars.
Transition to Adulthood
Emily Iland and her son Tom share evidence-based guidance and insider secrets to help youth succeed in adult life. Inspiring presentations for parents, educators, other professionals and self-advocates are based on their new book, Come to Life! Your Guide to Self-Discovery (Available now at ThomasIland.com).
Topics that can be presented by Emily alone, Tom alone, or Emily and Tom together include:
Transition to Adulthood: One Family's Journey
Tom Iland is a successful adult with ASD who lives on his own, drives, graduated from college, became a Certified Public Accountant, works and has an active social life. We share the inspiring story of how he achieved these things, and what you can do to help youth with ASD realize their potential!
Evidence-Based Predictors of Success in Transition
Data on the adult outcomes of youth with disabilities, especially those with autism, are discouraging. This presentation highlights the cold, hard facts and explores evidence-based options to improve outcomes.
Planning for the Future
You have to imagine a great future for and with a young person with ASD in order to shape their best possible life. This presentation offers unique insights to actively involve young people of all abilities in creating a personal vision and future plan. We also discuss the use of planning tools such as PATHs and MAPS (we are both certified planners!).
Creating High-quality Transition Plans
You can't get good outcomes in adult life without powerful transition plans. This presentation provides step-by-step guidance that helps participants create and implement impactful transition plans.
How to Write a Super Summary of Performance
Special education law requires that a Summary of Performance (SOP) for students in transition, yet many people are not aware of what the document is, its significance, or how to write an excellent one. We answer these questions and more in this practical workshop to help you maximize the benefits of this powerful document!
Self-advocacy & Self-disclosure of Disability
How can adults with disabilities get the help they need once the entitlements of special education end? Self-disclosure is a central part of the answer to this question. This presentation explores the pros and cons of the issue, along with ways to self-disclose a disability.
Adolescence & Sexuality
Autism doesn't stop the process of physically growing up and developing a sexual identity! This presentation explores how to help those with ASD understand the changes of puberty, and concepts including privacy, boundaries and relationships.
Autism & College
Even the most academically capable students with ASD face challenges in college. The demands of college life can amount to social, communication, sensory, behavioral and practical challenges for those on the spectrum. This presentation focuses on preparing individuals with ASD to be successful in college and/or suggests ways of providing support to those who are already there.
Finding Work that Works for Those with Autism
Not everyone can be a video game designer or astronaut. This presentation presents a novel way to help youth with ASD explore options and have experiences that can lead to a desirable career path.
Adult Relationships
Most individuals with ASD want to love and be loved. This desire can take many forms, ranging from friendship to sexual relationships. This presentation explores ways to support youth and adults in their search for meaningful (and safe) connections with others.
Spanish-Speaking Families
Emily is actively involved with research, outreach, parent education programs and cultural competence training. Topics for Staff Development include:
Undeserved Communities: Under-identification of Latino Children with Autism
Latino or Hispanic children with autism have less of a chance of being identified and served in the education system than children of other ethnicities. Learn more about the magnitude of the  problem and possible solutions in this presentation.
Obstacles Faced by Latina Mothers of Children with Autism
Equity and Diversity: Needs of Latino Families of Children with Autism
The fact that Latino or Hispanic children with autism have less of a chance of being identified and served than children of other ethnicities has a lot to do with multiple barriers faced by their mothers. This presentation examines findings from original research that identifies 29 obstacles faced by Latina mothers. We offer suggestions to overcome some of the barriers and improve access to diagnosis and services for Latino children.
Reaching Latino Families Through the Promotora (mentor) Model
This presentation describes a new model program specifically designed to reach out to Latino families. Parents Taking Action is program currently being evaluated for effectiveness in a randomized, controlled study. This novel, culturally-appropriate parent education program is carried out by promotoras, trained mothers of children with ASD who deliver 14 in-home educational sessions to parents of recently diagnosed young children on topics ranging from what autism is to advocacy to interacting more successfully with the child.
Cultural Competence: Serving Linguistically and Ethnically Diverse Families. This presentation was originally developed as a national webinar for Easter Seals, and has also been presented to staff of other advocacy organizations seeking to better serve diverse communities. Discussion includes understanding culture, cultural sensitivity and cultural competence. The example of working with Latino families of children on the autism spectrum illustrates how to work with diverse families.
Autism Presentations
As a mother herself, Emily is dedicated to empowering other parents through education and training. She presents a wide range of topics in both English and Spanish, including:
Understand Autism (Autism 101)
How to Tell Your Child About Their Autism
Autism in the Family: Dealing with the Impact
Sibling Issues & Family Balance
What Does It All Mean? Understanding Assessment Results
Find Your Voice: Advocacy Strategies to Obtain Supports and Aervices
Preparing Children for Adolescence
Inclusion and Community Integration
Emily has extensive background and involvement in programs to promote social inclusion, play and community integration. Topics of interest to audiences including educators, organizations, agency staff, etc. include
Social & Friendship Skills
Play & Social Inclusion
Skills for Safety & Independence